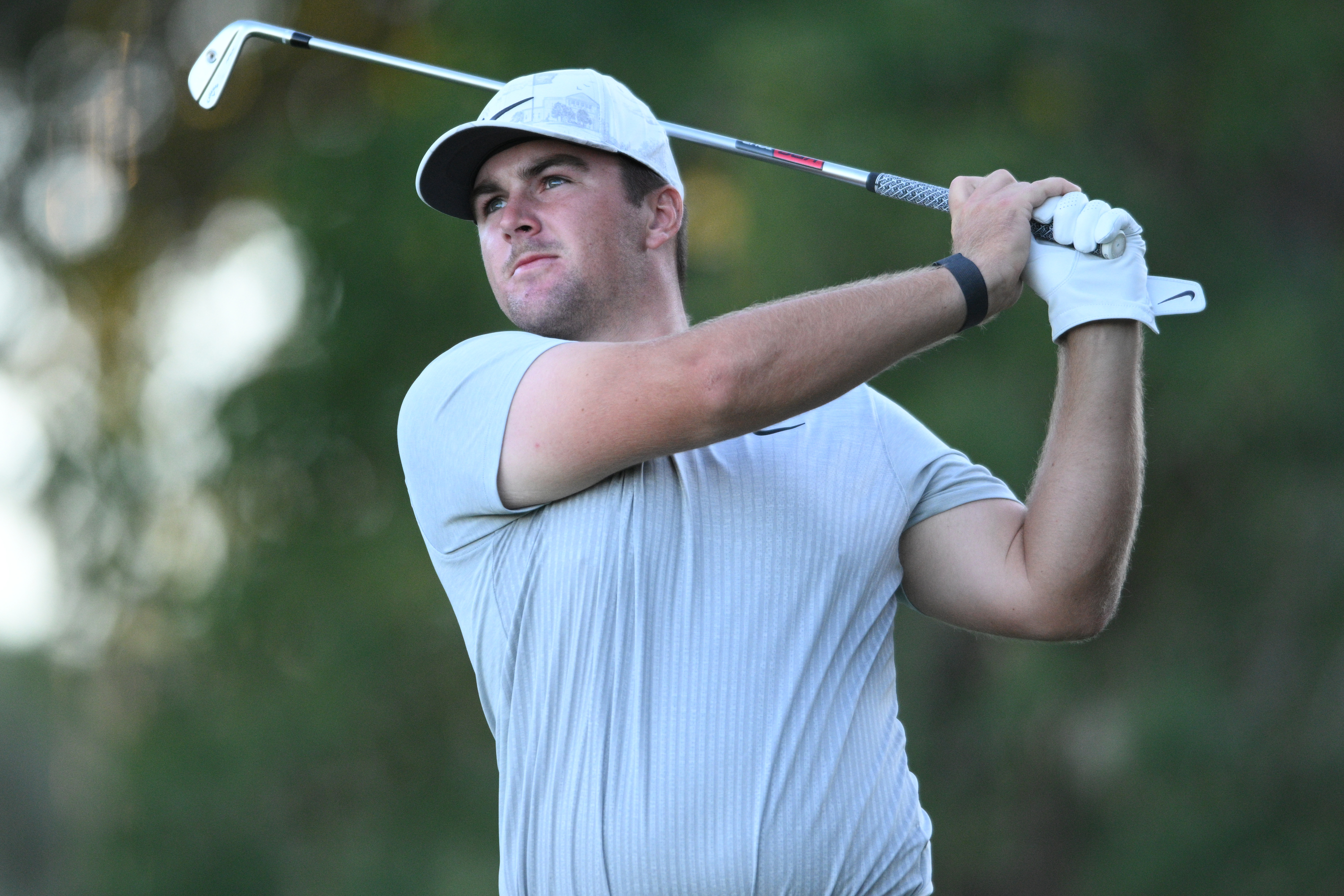 At the Magnit Championship, Gotterup Hoping Home-State visit Sparks Late Korn Ferry Tour Run
By Jeff Babineau
JACKSON TOWNSHIP - Chris Gotterup is in the early, dues-paying stages of a professional golf career that ideally will take him around the world for decades. This week, his craft will lead him home.
For Gotterup, 24, the promising 2022 Fred Haskins Award winner as college's most outstanding golfer, heading home means returning to New Jersey, where he will be one of the home-state headliners at the Magnit Championship, a first-year Korn Ferry Tour event that begins on Thursday at Metedeconk National Golf Club in Jackson Township. It is the KFT's final event before the four-week Korn Ferry Tour Finals begin, and first time the KFT has visited New Jersey since 1997 (Laurel Creek Classic).
Gotterup currently ranks 35th in the season-long KFT Points race, right in the thick of things to earn a PGA Tour card for 2024. After Metedeconk, the KFT moves to a four-tier playoff series (KFT Finals) to decide cards for next season. The top 30 players after the KFT Championship staged Oct. 5-8 in Newburgh, Indiana, will earn PGA Tour cards. In previous seasons, the top 25 from the KFT regular season standings and top 25 finishers from a hybrid KFT Finals points list graduated to the PGA Tour.
Gotterup admittedly hasn't played to his potential in this, his rookie season on the KFT, but he has been steady if not spectacular. He has missed the cut only three times among his 19 starts, and last month posted his best finish – solo fourth – at the NV5 Invitational at the Glen Club outside Chicago. He knows, as many of his compatriots do, that one good week can completely change his fortunes, and has been looking forward to competing at Metedeconk, a course not far from where he learned the game, since it was added to the 2023 KFT schedule.
"I'm happy with the fact that I haven't played my best and I've hung in there pretty good," Gotterup said recently. "One good tournament, and I'm good to go."
"You really just have to get hot at the right time. Scottie Scheffler comes out here (in 2019), wins twice and now he's World No. 1. ... It's really just a 'get-hot-at-the-right-time' kind of thing. All these guys are good enough to be on the PGA Tour for the most part. You see that every year; you get five, six guys that turn out to be superstars every year out here."
This week's full field of 156 players includes eight of the top 10 from the 2023 KFT Points List, including multi-winner Ben Kohles (currently No. 2), Rico Hoey (3), last week's winner Alejandro Tosti (4)and former University of Texas standout Pierceson Coody (5), grandson of former Masters champion Charles Coody. All three already have sewn up PGA Tour status for next season, though the perks of finishing No. 1 include starting spots in The Players as well as next summer's U.S. Open at Pinehurst No. 2.
In addition to Gotterup, who is from Little Silver – he said he will commute from his childhood home this week – New Jersey will be well-represented in this week's field. Prior to Monday's qualifying tournament to determine the field's final eight spots, the field already boasted New Jersey's Ryan McCormick (Middletown), Matt Greyserman (Short Hills), David Kocher (Morristown) and 2023 New Jersey State Amateur champion Jack Wall, a fifth-year-senior at Texas Tech from Brielle. Wall was given a sponsor exemption, along with Kelly Harper, three-time Southern Conference Player of the Year from Furman.
Metedeconk National Golf Club opened in 1987 and is well-known in the northeast as a thorough, demanding test of golf. Whereas the KFT carries a reputation as the circuit that scores low wherever it visits, this week's Magnit Championship could be an exception, Gotterup believes. He should know. In his own words, he said he has played the golf course "a zillion times," which included the New Jersey Open and a recent visit this summer.
Many weeks on the KFT the winning score surpasses 20-under. This week, Gotterup estimates that the winning score might be more in the 16-under range, or even as low as single digits under if conditions are firm, fast and windy.
"I know if I can play good there, I can play good at pretty much any other golf course," Gotterup said of Metedeconk's difficulty. "You've got to drive it good. You've got to hit your irons good onto the greens. There's always some sort of trouble out there. I think it's just a really, really good course."
The Magnit Championship is one of three new events on the 2023 KFT schedule. Tournament rounds at the 72-hole Magnit Championship will take place Thursday through Sunday. Daily grounds tickets are $25. For further tournament information, or to purchase tickets, visit www.MagnitChampionship.com.
Back to News