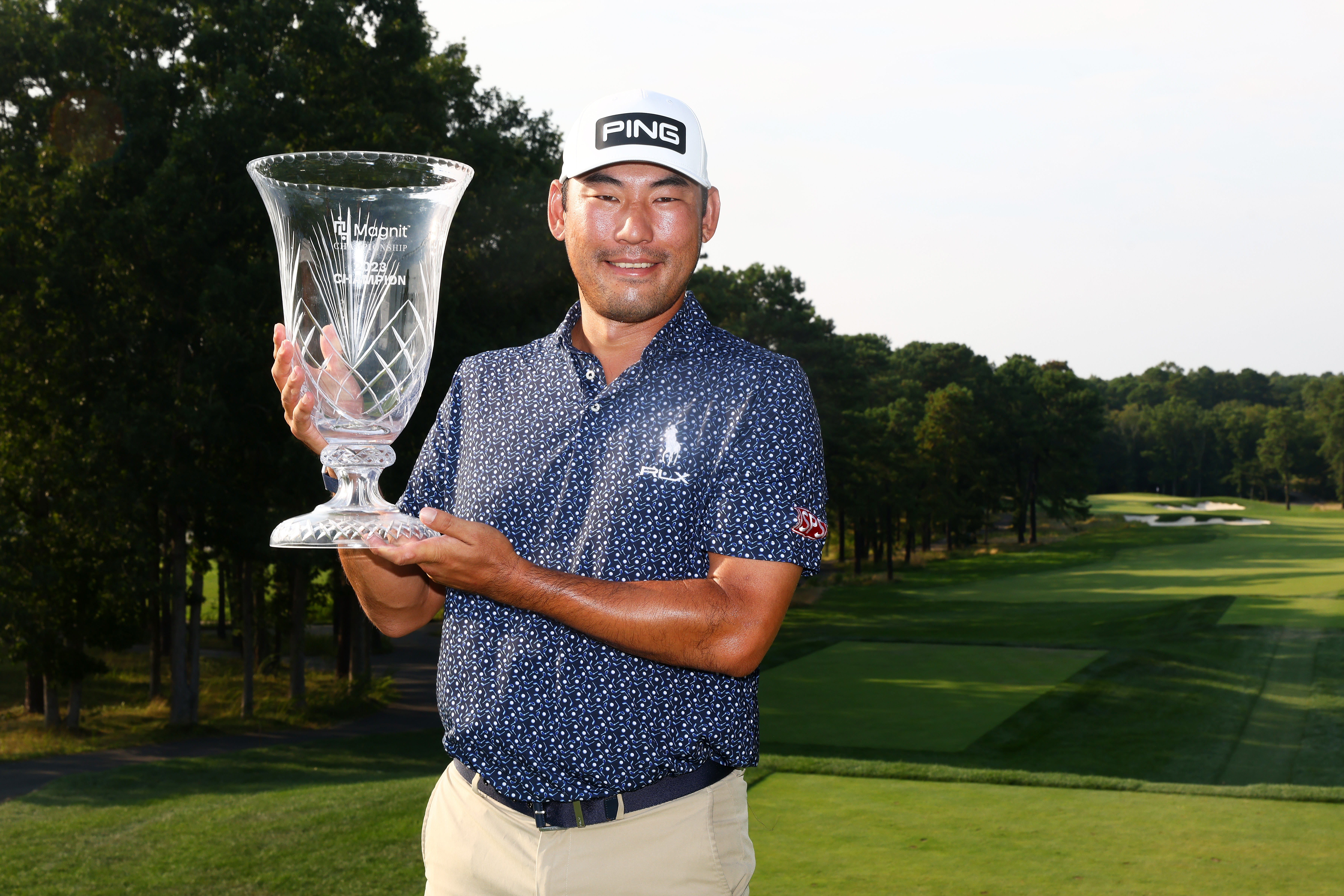 Chan Kim Wins the Inaugural Magnit Championship at 20-Under Par
By Jeremy Friedman
JACKSON TOWNSHIP, N.J. – Chan Kim took charge on the back nine at Metedeconk National Golf Club on Sunday, moving up the leaderboard by going 6-under on his final eight holes to win the inaugural Magnit Championship by three at 20-under par.
Kim, who recorded his first Korn Ferry Tour win, pocketed $180,000 for his victory and is projected to move up to No. 12 on the Korn Ferry Tour Points List. Kim will be one of 156 players advancing to the first event on the Korn Ferry Tour Finals next week at the Albertsons Boise Open. The top-30 on the Korn Ferry Tour Points List after the four-tournament finals will earn PGA TOUR cards for 2024.
"The course (Metedeconk) has gotten firmer throughout every day and I knew I needed to shoot something low to try and give myself a chance," said Kim. "I think the number one thing with me is confidence, believing in myself. Everybody around me is always telling me 'you're so good,' but I for some reason wasn't fully believing in myself.
"Finally winning for the first time on the Korn Ferry Tour, being the first year out here, I've got a lot of confidence going into Boise next week," continued Kim.
Third-round co-leader Taylor Dickson, who shot a tournament-scoring record 10-under 62 on Saturday, carded a 3-under par 69 on Sunday to finish second at 17-under par. Dickson also advances to the start of next week's Korn Ferry Tour Finals at Albertsons Boise Open.
New Jersey residents Chris Gotterup (Little Silver) and Ryan McCormick (Middletown) also finished strong with family and friends on-hand throughout the week in support. Gotterup turned in a final-round two-under par 70 and McCormick carded a 3-under 69, both finishing T16 at 8-under par for the championship.
Adrien Dumont de Chassart, who turned professional this summer following graduation from the University of Illinois, finished T11 at the Magnit Championship, officially earning his PGA TOUR Card for 2024 and becoming #TOURBound. Dumont de Chassart carded an 8-under 64 on Sunday – tie for low-round of the day – secured his PGA TOUR card after climbing 35 spots on the leaderboard. In eight events on the Korn Ferry Tour since turning professional in June, Dumont de Chassart has seven top-11 finishes – including one win and a runner up.
"It feels amazing," Dumont de Chassart said following his final round at Metedeconk National Golf Club. "One of my goals was to just keep my card on the Korn Ferry Tour but that changed a lot in the last month.
"Just to compete against the best players in the world (next year), that's going to be something really cool."
The inaugural Magnit Championship was contested over 72-holes Thursday-Sunday at Metedeconk National Golf Club in Jackson Township. The first Korn Ferry Tour event staged in New Jersey since 1997, the Magnit Championship featured a $1 million purse, with $180,000 going to Kim as the winner.
-30-
Back to News