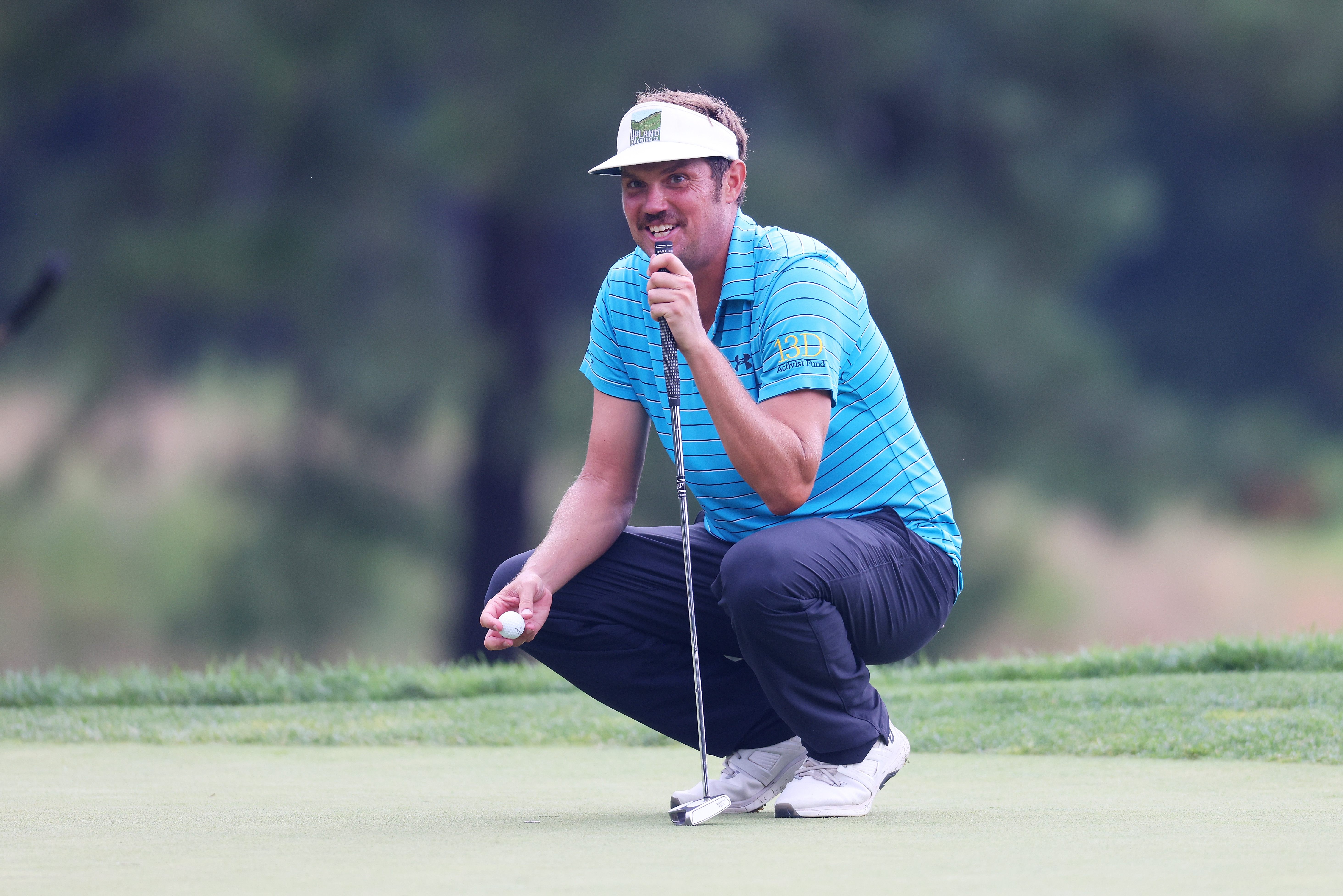 PGA TOUR Veteran Jeff Overton Takes Early Lead with a Course-Record 65; New Jersey's Chris Gotterup One Shot Back
By Jeremy Friedman
JACKSON TOWNSHIP, N.J. – In a day that began with an hour and 40-minute fog delay, there was no fog in Jeff Overton's game today at Metedeconk National Golf Club. The PGA TOUR veteran carded his best opening round ever on the Korn Ferry Tour with a 7-under par 65, shooting the tournament rotation course record at Metedeconk National Golf Club. Overton, who stepped away from golf in 2017 due to complications from back surgery, returned to competition in 2022 and is competing this week on the Korn Ferry Tour on a medical exemption.
"It was awesome. Anytime you play that you make almost every putt you look at, it's going to be a good day," said Overton, who is making his 323rd PGA TOUR-sanctioned start this week.
Overton underwent back surgery in 2017 to repair a herniated disc, which led to one of the scariest moments in his career – a spinal infection that hospitalized him for a month and many more nights of home health care. He did not pick up a golf club for two years after being released from the hospital.
PGATOUR.com: Jeff Overton makes emotional return at 3M Open - PGA TOUR
Five years after his surgery, he returned to competition in July of 2022 at the 3M Open on the PGA TOUR as a sponsor exemption. He made his first professional cut since 2016 at the Albertsons Boise Open in August of 2022.
In 2023, he has competed in seven Korn Ferry Tour events and three PGA TOUR events, yet to make a cut. He credits his opening round to a grip change that he has been working on with his longtime swing coach, Craig Harmon.
"I didn't really know what to expect," Overton continued. "I worked with my teacher, Craig Harmon, last week and changed my grip a little bit. I was worried where the ball was going to go, but it was working great. I got back to kind of sling hooking it a little bit more and it was a lot of fun out there."
Trailing Overton by one is Chris Gotterup, who grew up and resides in nearby Little Silver, N.J. With family and friends in attendance, Gotterup turned in a 6-under par 66, also overtaking the course record prior to Overton's 65.
"I was definitely nervous to start the day for sure," said Gotterup. "Just really internal pressure to perform for everyone, family and friends. "So, it makes me focus the whole round and make sure I'm in it and give them as many good shots as I can."
Right behind Overton and Gotterup is a series of players at 5-under par, including fellow New Jersey resident, Ryan McCormick, a Middletown, N.J. native. McCormick is currently 24th on the Korn Ferry Tour Points List heading into this week.
"It was awesome," said McCormick following his round. "A lot of my friends follow tournaments on the app – occasionally we're on TV – so it's rare for them to come out and see me play. It's been a long time and a lot of the people who came out today I've known since I was 10, so it was awesome."
Thursday's opening round was halted at 7:52 pm ET due to darkness. Play is scheduled to resume Friday at 7 a.m. ET. Round two tee times on Friday will be delayed by 30 minutes.
-30-
Back to News